Aria award nominees King Tide are Australia's' premier original Rock Steady Reggae gut soul band. King Tide have been touring non-stop since the release of the bands third album Roots Pop Reggae released by Vitamin Records
July 2009.
With appearance's at festivals as wide and varied as "Sydney Festival Opening Night", "Womadalaide", "Ragamuffin fes
tival", "The Great Escape", "Peats Ridge Festival", "Wave Rock Weekender" W.A,
Coast Fest", "Playground Weekender", "Reggaetown","Island Vibes Festival" "Sub Sonic Festival", "Mullum Fest",
"
Wollombi Fest", "Rainbow Serpent Festival", and recently headlining Reggaefest in Ballina with and as the backing
band for Jamaican studio one legend Stranger Cole.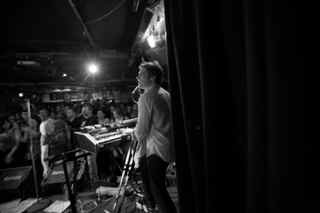 The track "Keep On Lovin" from the bands third "Vitamin" records album "Roots Pop Reggae" has this year been leased to the "Ministry of Sound" label. Anotherer track from the album has been leased to the Japanese label "Media Factory" for inclusion on the labels "Pacific Roots"compile. King Tide have also been featured on U.K label 'Urban Sedated" 'Global reggae" compilation.  In late 2009 The "Urban Sedated" label also released the bands debut  album "To Our Dearly Deported" and in 2010 followed that up with the bands then new album "Roots PoP Reggae".On release in Australia "Roots PoP Reggae" was featured as album of the week on A.B.C radio national.The album also  received heavy rotation on A.B.C radio JJJ networks " Roots and All" programme . Along with that came  high rotation on Sydney's fbi radio and solid support from the community radio national network. In August 2011 saw the band releasing the compilation and fourth album "Summertime Vibration Pack" debuting in the A.I.R.I.T charts at number five and staying in the charts top ten for several weeks.
 
King Tide has been blessed over the years with the album cover and poster art work genius of Artist and Musician Chris O'Doherty (also known as Reg Mombassa) He has exhibited paintings, drawings and prints at 
Watters Gallery
 in Darlinghurst since 1975.Reg also has a grand band
"DOG TRUMPET"
formed with his brother Peter O'Doherty.
Press/Reviews
King Tide + Firehouse Crew - The Basement (06.08.11) Kristie Nicholas AU/Review
I was a little unsure what to expect walking into The Basement on Saturday 6th August for the King Tide self titled Summer Vibration compilation launch. I had never witnessed the self proclaimed '3rd best reggae got soul band from Bondi' in action before, and wasn't too familiar with their music. However, I felt pretty sure that a band with a name as big as their reputation would not disappoint. When King Tide took to the stage, within seconds all my doubts went out the window. Now this was reggae. I'm not one to judge a book by its cover but when I laid eyes on front man Tony Hughes I wondered what this eccentric Caucasian older man would bring to the table? Well, turns out he's going to bring a voice reminiscent of legendary Jamaican reggae singer Bunny Wailer, and be one of the most entertaining front men I've witnessed. I was enthralled by his presence. His almost chaotic dancing and interaction with fellow front man Paul Snashell kept the crowds interest peaked and encouraged us all to let loose and embrace the sweet reggae & ska music the band was playing. King Tide played a mix of originals & covers through out their two sets, including reggae classics like "54-46" & "Pretty Girl", and tracks from the new compilation like "These Eyes (Crying over you)". They kept the energy high, especially when playing ska style tracks, but they really wowed on their lover's rock style tracks such as "Anyone Could Tell', where keyboardist Robbie Woolf shone with his out of this world falsetto. Add a tight rhythm section featuring Declan Kelly on drums/vocals & bassist Peter Firth, along with a smooth horn section & generous guitar skanks and you have a band that has fine tuned the art of playing reggae with an upbeat 60's and 70's vibe. Closing my eyes I could have sworn I was in Jamaica circa the late 60's, not in Sydney watching a local band circa 2011. King Tide took the crowd for a ride on their wave of soulful reggae, and it's one that I'll be riding well into the warmer months. Their new Summer Vibration compilation album is out today, Monday 8th August 2011, through Vitamin Records.


Kristie Nicholas AU review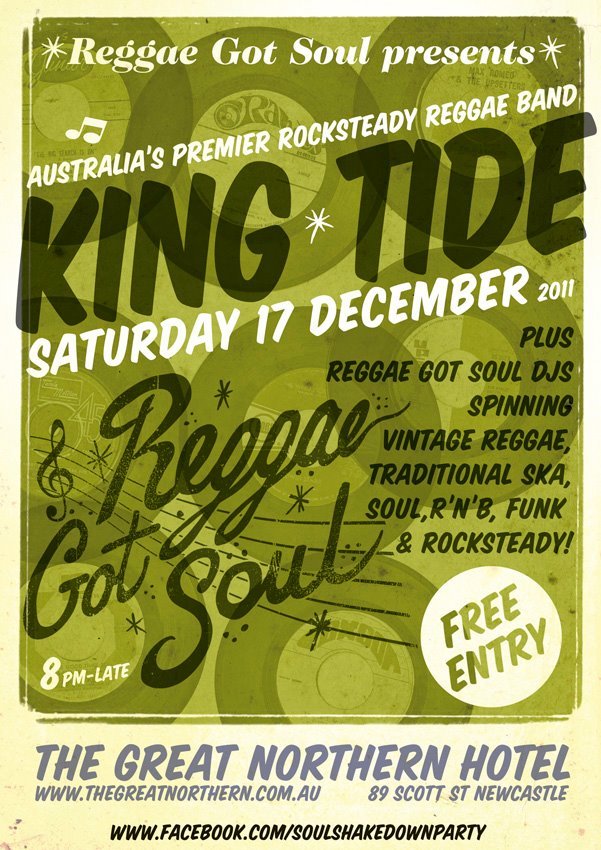 Rave Magazine, 2008
If the tell tale Jamaican green, yellow, red and black artwork doesn¹t give it away, the first ten seconds of Beggars Waltz will. Kingtide is a band with their hearts overflowing with heritage reggae. If you¹ve got a ticket to the upcoming Ragamuffin festival, now might be the right time to go throw on one of your Inner Circle singles, because this is the sort of reggae that¹s more concerned with finding peace of mind than a piece of tail. From the get-go, an almost-crackly old school production makes it obvious that reggae circa 1970s is on Kingtide's mind the genuine sort that 2008 Queensland WASPs like me, and possibly you, I¹m not sure, really only come across on compilations of Joe Strummer¹s radio shows, that sort of thing. It¹s almost odd then to discover that Kingtide are a new band from Sydney,  though their international sound is validated by their signing to UK record label Urban Sedated. I¹ve never heard of it either, so it¹s probably actually cool. Currently just doing the NSW circuit, fans of reggae or dancehall should keep their peepers on the gig guide, because if Beggars Waltz is anything to go by, Kingtide should be an ace live act.
Brett Winterford, Metro SMH 2009
There is so much to marvel at when rocksteady royalty take the festival stage. From out of the fattest, deepest grooves come brooding horns, delay warped keys and steady muted stabs of electric guitar.Within a few bars, a silver haired Tony Hughes joins in. Dressed in his faded grey suit and bowler hat, Hughes slips into ska step, laughing, throwing what was left of the bands rider to the crowd. He takes the mic, points to the sky and delivers his mantra."I loooooooove hip hip!" he wails, to roars of the crowd. "But reggae is my life!"Hughes is compelling viewing. How did a white man, closer to 50 than 40, get such an authentically hoarse, gutsy, reggae voice? How did Bondi produce anything so rootsy? Hughes won't tell me his age. Just that he is "older than Ben Lee and younger than Bruce Lee" Cheeky."Tony Hughes is…not easy sometimes warns Glenn Wright, owner of King Tide's Australian label, Vitamin Records.Wright has an emotional investment in King Tide. Hughes fronted several bands that passed through Wright's bar, The Harbourside Brasserie, before its closure. He then asked Hughes to put together a new act for a night at Bondi's Beach Road Hotel – the result being King Tide. Hughes says he "gets away with a lot as a result". He takes great delight in reading aloud some notes Wright had sent him moments before out interview."Tony, be on case on this one. Point number one, don't bullshit about your mum's
ethno-librarianism."Hughes discovered reggae, so the story goes, via his mother, an ethnomusicologist at the municipal library in London. The family would play "world music and dance around in the dappled garden light."The only problem with that story Hughes says, is that it is "complete bullshit"Hughes immigrated to Australia from Liverpool when he was 12 years old."Back then in the UK, reggae was pop music:, Hughes says. "You would have these steel bands coming in from Trinidad and it was mainstream pop. Reggae wasn't a marginalised music then, like it is in Australia. We would never have gone around calling it world music."Hughes has performed with numerous reggae, dub, dancehall, ska and rocksteady
acts over the years – but its only with King Tide that audiences are catching on."I guess (now) with the internet and festivals, people are making up their own minds about music," Hughes says. "The blues music of America was copied to England in the 60's . It took 30 years to cross that ocean. And now we're playing rocksteady music that came from Jamaica in 1973 – it took 30 years for the kids here to get it! The band include Terepai Richmond (D.I.G, The Whitlams, Missy Higgins) on drums one night and (singer songwriter) Declan Kelly the next.Hughes original co-frontman was Jamaican toaster Sean Collins (toasting is a rhythmical chanting popularised by Jamaican music). Collins was deported while the band were recording their first album, which was then entitled 'To Our Dearly Deported'.Several Years and another album on, King Tide are the first band of 'white' musos to be picked up by British label Urban Sedated. It's a feather in the cap for an outfit who have always taken a relaxed approach to making music."I never meant King Tide to be a job," Hughes says. "I mean we never use to rehearse. In the early days I would turn up on the night I would have sent some grooves to the band,you know Mp3's during the week and we would play them and improvise the rest. That's how it all got started.Their was never anything planned we would just turn up on Thursday night at the Beach Road Hotel set up on the floor and stat playing; People liked it so much they built a stage for us .As long as people keep liking it we'll keep turning up. That's the way it will always be."
Dave Herbert, Brag Live Review 2005
It's like someone ignited a big, huge fucking dancehall flame and all the punters … are like moths to the light.    
Paul Busch Faster Louder 2005
my favourite find of the festival was King Tide … (I am still skanking)
Paul, FasterLouder 2005
Listening takes me back to another time, when the world seemed a better place, when people smiled in their cars while listening to reggae beats.
ROOTS POP REGGAE REVIEWS
Tim Ritchie (ABC Radio National) 2009
T
his bottom end is heavy stuff... great cd and mastering will blow some systems,,, and I still get a feel of the days of bygone bliss... Tim Ritchie (ABC Radio National) after hearing Roots Pop Reggae  King Tide have crystallized their niche in the music world, starting out as a collective jam band and progressing to a fully-fledged, slickly-packaged reggae powerhouse that are taking the festival circuits by storm. What could uncreatively be described as ³Byron Bay music² is a potent and vibed-out blend of Marley-esque sunny ska, 70¹s soul and a very Australian melodic pop sensibility. This album showcases what they¹re capable of well. Tony Hughes¹ squeezed, husky vocals are the
centrepiece of the ensemble, his flambouyant posturing and socially attuned lyrics speak to us like the voice of a weedy pastor, revelling in the immense gospel sounds created by the band. This being their fourth album, it¹s a detailed and glossy affair produced by the three mainmen Hughes, Paul Snatch and Ross Fotheringham themselves, they seem happy in the kaledoscopic blend they¹ve concocted. The catchy-as-hell Life Boat swings, and sure-fire crowd pleaser Rockers Style sways. There¹s even a touch of  Marvin Gaye in the lilting Wake Up. These guys know they¹re onto a good thing, and their buzzing fanbase should keep them afloat for a long time, continually wooed by their overtly positive mantras; ³we got
everything we need in the palm of our hands, we just got to keep on lovin.
Rhythms Magazine 2009
Sure, there are plenty more dreadlocked surfers with too much time on their hands thinking reggae is cooland, so easy to play bro!, than the world (and especially yours truly) can stomach. King Tide are different. Yeah, they surf, and yeah, they play reggae. But they have roots. Not only in the music they celebrate, but in their musicianship. This is a collective of vast experiences whose members have made committments to master their instruments and it shows in the intricacy of this album's arrangement. And though many in the roots 'scene'use the term 'pop' as a derogatory term, King Tide employ it to
promote the fact that they actually crafts songs, rather than just jam endlessly on two chords in clouds of smoke. Lead singer Tony Hughes, in particular grew up in the UK in an era when reggae was one of the
most prominent, and indeed popular, forms of pop music. King Tide is the latest of a long line of rocksteady/ska/reggae outfits for Hughes. With its colour and energy, it also happens to be the most successful. With Hughes sounding like he was born and raised in Jamaica, and backed by guns like drummer Terepai Richmond and a full horn-section, Roots Pop Reggae delivers what it promises, and in irrestable fashion. From the moment the catchy Atomised bounces to life, the hooks come rich and thick, aided by some world-class production quality, courtesy of Hughes and fellow band-members Paul Snatch and Ross
Fotheringham.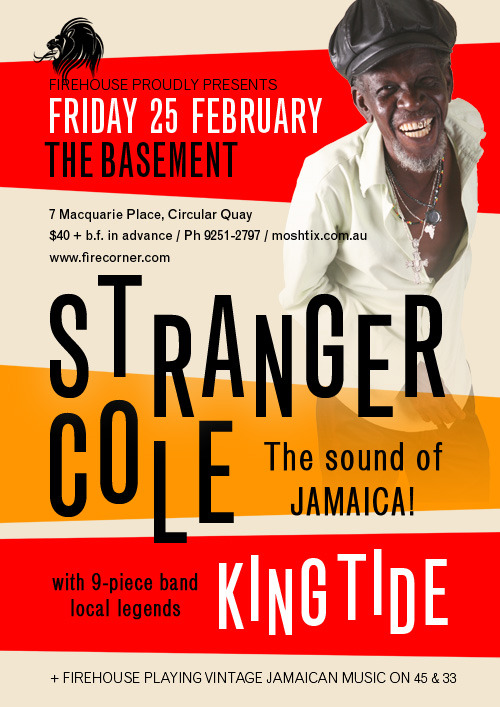 Australian Newspaper
ROOTS Pop Reggae is King Tide's third CD and its most accomplished blend of rock steady beats, pop, soul, electronica and ska. King Tide is the final mutation of the heady acid rock of the early 1990s when D.I.G. (Directions in Groove), Swoop, Caligula, Def X and Skunkhour defied the prevailing grunge and Oz rock four-on-the-floor template to venture forth with bold, individualistic blends of infectious melody, electronica and funk-soul. It ruled Sydney inner-city dance clubs for three or four years, then subsided. Main men are MC-singer Tony Hughes, from late 90s funk-dance outfit Bellydance, and toaster Paul Snatch, previously with hip-hop outfit Large Rabbit and pop band Radio Freedom. The two vocalists enjoy the backing of a nine-piece ensemble that pours peerless musicianship into sublime grooves. Players include gun drummers Terepai Richmond and Declan Kelly, guitarist Ross Fotheringham, a four-piece brass section and keyboardist Robbie Woolf, who steps up to the microphone for one of the album's standout tracks, the high, sweet soul lament Anyone Could Tell. It evokes the glistening sorrow of Smokey Robinson's falsetto. Mostly, though, Roots Pop Reggae is infectious melody welded to sinuous rock-steady dance rhythms. Atomised is Hughes's melodic account of how the soul of music is passed through generations. Keep on Lovin' is traditional roots reggae embodying the optimistic message that love can yet save the world. Sun Machine uses programmed beats as a platform for an adventurous simulation of the stimulation of summer days. Chemical is a Paul Snatch rave-up that looks for and finds reggae's DNA in disco nursery rhymes. Beggars Waltz is soul contemporised with electronic brass flourishes. Rockers Roots takes Hughes back to his childhood in Britain, awed and floored by Millie Small's pop-reggae smash My Boy Lollipop. From Reg Mombassa's vivid cover art to the frolicking music inside, Roots Pop Reggae is a rarity: dance music that leaves messages in one's ears, one being to check the gig guide to see when King Tide is next playing live.
4 out of 5 Stars
SCARED NEW WORLD  FasterLouder 2005
Listening takes me back to another time, when the world seemed a better place, when people smiled in their cars while listening to reggae beats. King Tide pummeled the crowd with their beat and forceful sound on Saturday night at The Gaelic Club. Playing well over 20 songs on the evening, Tony, Paul and the band were in excellent shape and form, even with Tony sporting a rather rugged black eye. I was confused at how he had come to this beating, but alas, it was only a bit of a problem with a bass guitar that caused it. No bashings at the hands of anyone, thankfully. Coming out and kicking off the band did World¹s Gone Wack and the attendees were skanking from the get go. When you see King Tide you are taken by the force of the playing, the groove and the fabulous horn section. Paul and his new hairdo, or lack of one, as he has removed his long locks for the bald look, except for a gash of hair behind one ear. Of course the new look suited him and had no effect on his singing, dancing or rapping. Moving and grooving was what was happening on the dance floor and the smell of weed filled the air and that is a nice change from most gigs these days. Not that I condone open smoking, but reggae and rock and roll gigs used to be one place where you could light up without too much pressure. No one at the club seemed to mind one bit and it added to the Rastafarian atmosphere of the night. The anniversary of Mr.Marley¹s birth had just passed and Bob would have been 63 this year if he was still with us. The spirit of Bob was with us as we worked up a good sweat and the rhythm and the roll of King Tide kept us moving through a set list that included Not Irie, Bush Heads, Dog War, and a great version of Skatalite Feelin. Yes a night with King Tide took it out of me but left me wanting to keep dancing and moving. They inspire the legs and feed the ears. And just a few days ago I entered a cab in Sydney and the driver was playing some soulful reggae and I asked him, Is this the radio? And of course it was not, but we talked reggae for
a bit and his wife who is a former New Yorker like I, had seen Bob Marley around 40 times. I asked the cabbie if he had heard of King Tide and he had. His wife loves the band and she can¹t believe that they don¹t get more press and air time in this world of ours. I nodded in agreement and told him to make sure he and his wife supported live music by seeing them the
next time they are in the neighborhood. And make sure you, dear reader, get out and see King Tide soon. Time waits for no one, not even you. Drum Media, 2008 The Annandale Hotel, Annandale Bringing it home on Jagermeisters live loud month of February,King Tide are the Australian Wailers. Snatch is a wild Hunter .S Thompson who's found Ra. Tony Hughes Daddy Cool with an ability to display Cab Calloway-esque showmanship.Solid reggae moved to jumping ska, pumped along by a tight three piece horn section and ridden by the two front men as if on blazing saddles.Tempos rose and fell, the band dominating the dancefloor'till not one person was left sitting.At the finale,the crowd of 200 sounded like 400. Nuff said.
Choppy Chopstein Chappy Chopstied "Brunswick Festival"
To say that sitting in Brunswick on a Sunday night, where the weather was cold but the music was hot, is somewhat of a cliché in Melbourne. But a cliché is often a cliché because it is something based on reality that has happened so many times that it is instantly recognisable. So for me to say that on this particular Sunday night that I was sitting sipping a beer, while it was bloody cold outside and a band preformed in front of me who were, not to be exaggerating, hot, is a welcome cliché. Kingtide, hailing from Sydney have been regulars on the reggae/roots circuit for a long time, and have completed a number of well placed support gigs and solo shows throughout Australia. As recently as December Kingtide joined Melbourne reggae/fun legends Bomba at the Espy in St Kilda for what was probably the most underrated gig of the year, a merging together of two bands into a perfect symmetry of sound,complete with heavy bass rhythms and driving melodies that turned the Gershwin Room into a sweating, breathing life form (those who attended would know what I am talking about).With this in mind, it occurred to me (and probably the 30 people who witnessed the same thing) that Kingtide¹s gig was doomed from the outset. A Sunday night for any local act is a difficult one. If the weather is ideal and elements, such as venue and timing, correct, then it could be a winner. Unfortunately for the group of musicians who played brilliantly on this Sunday, none of these elements fell in their favour. There are some great venues for bands in Brunswick, but Don¹t Tell Tom is not quite there yet. I really like the room tall ceilings, great sound from the PA, and a great beer garden with pool table. But on this night, these elements not only didn¹t help, they seemed to aid the disappointing turn-out. With all of that said, I must say that Kingtide, for me, have been the highlight of the Brunswick Music Festival, putting as much heart and soul into a performance for 30 people as they would for 3000. Kingtide put out a solid, complete sound, with vocal harmonies from vocalist Tony Hughes and toaster/MC Paul Snatch that would send shivers down Bob Marley¹s spine. Featuring songs from their most recent record, Scared New World, the
members of Kingtide proved beyond doubt that they're foremost a party band. Songs such as Funky Reggae, World¹s Gone Wack, and Ites, ites, ites (written to commemorate Tony¹s seeing ska legends The Skatilites play), were infused with covers such as the Wailers¹ classic Simmer Down and swinging track from reggae master Yellowman. My personal favourite was their ska-ed up version of Bob Marley¹s Soul Shakedown Party, which even had the owner of the bar dancing. And that's what hit me as being something essential for this bands survival the ability to make people dance. In between their two sets (yet another obstacle in the night) I had a chance to sit and chat with the guys. They didn¹t bitch and moan about the quality of the gig (although that¹s not to say they weren't disappointed). They smiled, shared a bottle of rum, and
decided to treat the people who had made the journey to a show of personal favourites and fun. It¹s this optimism that made what could have been a complete disaster, a gig that people will hear about but only few can say they witnessed.